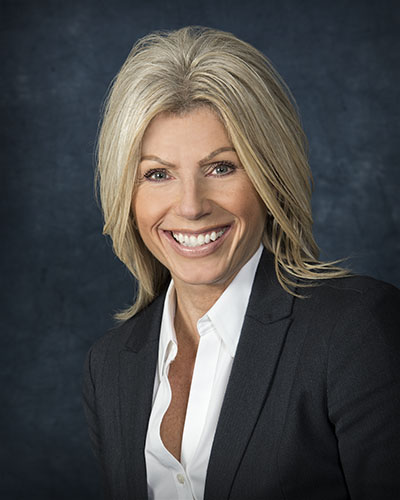 Ruth Ashton
CFP®
CERTIFIED FINANCIAL PLANNER®
Investment & Insurance Advisor
HollisWealth®, a division of Industrial Alliance Securities Inc.
Hollis Insurance
For the last 22 years, Ruth has worked with Polson Bourbonniere Derby Wealth Management, a retirement planning boutique serving the GTA. Ruth is proud of the firm's nomination for a number of national Wealth Professional Awards (Finalist in 2016, Winner in 2017, Finalist in 2018) including the most recent Finalist Award for 2019 Advisory Team of the Year.
Ruth moved from Trenton, Ontario to Toronto in her twenties. Her first job was as a client service representative with National Trust. "That first job with the bank paved the way for who I am today. Even if I didn't start out choosing a financial services career, I'm so grateful that this wonderful career chose me. Helping people plan their financial future and creating a worry-free retirement for clients is my priority, my life purpose " the CERTIFIED FINANCIAL PLANNER® professional and Investment and Insurance Advisor says.
"I work with such a great team of people, including Paul Bourbonniere, one of the founders of Polson Bourbonniere Derby. I couldn't ask for a better work family. As independent advisors affiliated with a non-bank wealth management advisory firm, we at Polson Bourbonniere Derby have access to a wide array of financial solutions. One of the reasons we are so successful is that we focus on client relationships as opposed to pushing products.
"Our team includes five CERTIFIED FINANCIAL PLANNER (CFP®) professionals. The CFP® designation formally recognizes expertise in the areas of financial planning, taxes, insurance, estate planning, and retirement. Individuals who are awarded the designation must meet requirements in four areas: formal education, performance on the CFP® exam, relevant work experience, and demonstrated professional ethics. To sustain their skills and certification, designation holders are also required to continue ongoing annual education programs. Clients appreciate this."
Ruth, prides herself on helping clients create a comprehensive, holistic, and "Worry-free Retirement Experience™." "My ideal client is someone who takes an interest in their finances and overall well-being. Close to three-quarters of the people with whom I work are either retired or 5-10 years away from that happy life event."
Ruth's approach works. According to client Stuart Palace,
"Ruth started out being entrusted with my Mother's investment portfolio and over time as she couldn't manage things on her own, I got involved to help her and that's when I was first introduced to Ruth probably going back 20 plus years. She is unlike any other Financial Advisor I have dealt with and I have dealt with many. Ruth truly cares about her clients and makes a point to converse on a personal level to get to know each of us and I feel this is an important trait as it will help to ensure the appropriate investment strategies are being implemented. Ruth is responsive, always available and her office runs like a well-oiled machine. There's not been a question I've asked that her or her team couldn't answer in a timely way."
Financial Planning: art, science or both?
"The "art" of financial planning comes into play through the process of customization when it addresses what's important to you as a person – your values, your interests, your hopes, your dreams, and equally as important, your roadblocks.
Your net worth, cash flow, liabilities, and risk, provide the foundations of your Financial Plan. To reflect the opportunities and challenges of your unique situation, your plan must go beyond the scientific application of asset allocation, retirement and estate planning, and tax minimization strategies and address the "texture" of your life. This includes what you value and what you want your money to do. This customization ensures the information in your plan is not only practical, it fits you and yours, like a glove. To create a Financial Plan that suits you, we have to get the "texture" piece right."
Ruth believes that it's impossible to explore the texture of your life with a robo-advisor which is really nothing more than an automated, algorithm-driven computer program. An algorithm will never dance at your wedding, congratulate you on your grandchild's graduation, attend your parent's funeral, or share your excitement when a new baby is born into your family.
Up Close & Personal
In addition to being committed to lifelong learning, Ruth makes time for regular exercise, whether it be cycling, or taking in a class, which has now expanded to include recreational boxing. She also paints, draws and loves interior design. Ruth is very close to her elderly mother, her two brothers and one sister, nephew and nieces, and also her loving friend-family.
Like her mother, Ruth has a wonderful singing voice, and often entertains at charitable events like the annual "Above and Beyond: Rock for SickKids". Polson Bourbonniere Derby has been incredibly supportive of Ruth's hobby and has helped to raise funds by sponsoring various events and charities with which Ruth has been involved.
There are many things in life that we will never know until they actually happen, like the date of our death, if we will become disabled or lose our jobs, or who will win the next election. Planning for and around unknown events such as these, is essential. "When we follow the advice of American investor, mutual fund manager, and philanthropist, Peter Lynch, we "Know what you own and why you own it," we get in touch with both the depth and texture of our lives. I'm so grateful for this opportunity to continue to live my life purpose – helping people plan their financial future and creating a worry-free retirement for clients."
Choose the

Worry Free Retirement Experience™